We've seen iPhone controlled thermostats, remote controlled airplanes and balls, but in case those weren't enough for you, Insteon now has a lightbulb you can flicker with your smartphone.
The $30 bulb may seem extremely pricey when compared with a traditional lightbulb. But beyond the iPhone control, this is an LED light bulb which brings the latest and greatest in energy savings technology, with over 52,000 hours of light time. A non-iPhone controllable LED bulb will usually cost between $20-30 on it's own, though there are some bargains to be found.
You can connect multiple bulbs to a single controller to turn on your whole room (or house) at once, or even use a SmartLinc hub for favorite light configurations in the whole house.
For the budding home automation geeks out there, seems like a cool buy. The Insteon LEDs are currently on back order, but are shipping as soon as they receive more stock.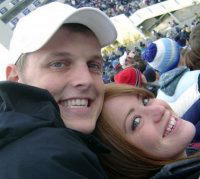 Caleb Hicks
Caleb is a teacher, entrepreneur, and tech enthusiast. He teaches kids (and his Mom) how to use computers for fun and profit. He loves to talk tech, gadgets, and Apple on Twitter (@calebhicks). Check out more posts by Caleb on his Author Page.