Zynga, the incarnation of all that is wrong with tech companies, has reached a partnership with American Express to provide prepaid debit cards with virtual credit rewards. Yes, that means you can now give the gift of FarmVille.
The card is limited to giving FarmVille's currency Farm Cash for now, but Zynga plans to roll out similar rewards programs for CastleVille and CityVille over the summer.
I can't believe that this is actually real. I recognize that FarmVille is huge, as are many of Zynga's other properties. But they are basically glorified Tomagotchi's backed by millions of dollars in psychology research bent around getting users to spend real money for digital pixels. And now they are getting people with real debit cards to spend that money so that they can get fake money to spend on digital pixels as a reward?
Unfortunately, I can see this being successful. On a personal level, if I am going to use a credit or debit card for rewards, I definitely don't want them to go towards Draw Something coins or Mafia Wars items. But obviously I'm not the target market for these cards. These cards will be sold to the massive number of people who log in to FarmVille every hour to make sure they are optimizing their harvest schedule, or the people who already spend real money for these digital products.
You can probably tell I'm not a huge fan of Zynga. If you want to read more about why Zynga is one of the worst companies around today, you can start with Forbes, then The Motley Fool, and then you can head over to SF Weekly.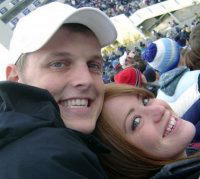 Caleb Hicks
Caleb is a teacher, entrepreneur, and tech enthusiast. He teaches kids (and his Mom) how to use computers for fun and profit. He loves to talk tech, gadgets, and Apple on Twitter (@calebhicks). Check out more posts by Caleb on his Author Page.