If your data doesn't exist in two places, it doesn't exist at all.
You've heard it a hundred times before, you should be backing up everything that is important to you. If one little thing goes wrong on the magnetic disk that spins upwards of 7200 per minute, your entire photo collection can disappear.
While a backup to an external hard drive is a great first step, be aware that external drives are often made using cheap hard drives and are often even more prone to failure than the drives inside your computer. So it is wise to have an offsite or online cloud backup.
CrashPlan, Backblaze, and others are great cloud backup tools. But if you are a Mac user, and prefer the simple ease of Time Machine, you may want to look at DollyDrive – your Time Machine in the cloud.
Once you install DollyDrive, you are given access to a hard drive stored in the cloud. Your Mac will immediately recognize it as an available Time Machine device, and you can get to backing up right away.
DollyDrive also offers a free seeding program on most of their plans. What this means is that your initial backup can be done on a specialized hard drive that is mailed to you, so your first backup takes hours instead of days or weeks.
Additionally, you can use the DollyDrive as extra space for your computer, or to sync files across your iPhone, iPad, and Macs.
Plans start at $3/month for 50GB of space, and ramp up to 2TB for $40 a month. Other plans include 100GB, 250GB, 500GB and 1TB options.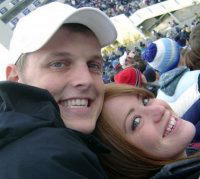 Caleb Hicks
Caleb is a teacher, entrepreneur, and tech enthusiast. He teaches kids (and his Mom) how to use computers for fun and profit. He loves to talk tech, gadgets, and Apple on Twitter (@calebhicks). Check out more posts by Caleb on his Author Page.