Smartphones are already capable of inundating us with alerts, messages, and updates. New smartphone owners should be prepared for even more – emergency warnings for extreme weather and natural disasters.
The Wireless Emergency Alerts system, run by the National Weather Service, will automatically alert smartphone users of tornadoes, blizzards, and hurricanes. The alerts will be similar to text messages or alerts, but will not exceed 90 characters.
Users are not billed for the service, and those who prefer not to receive the warnings can opt out of receiving updates.
AT&T, Verizon, Sprint and T-Mobile are all on board. Currently, Windows Phone and Android devices are set up with the service. iPhones should receive support 'this fall', but it is unknown if that means new iPhones only, or if all versions of the iPhone will receive the update. It is likely support for the service will be built into iOS 6.
Yahoo! interviewed smartphone users in Minneapolis about the ramifications of the service:
I spend enough time reading junk on my phone that's of no real benefit to me. I might as well read something useful, it's putting technology to use for the public good.
Another smartphone user was less convinced:
It's like email. It used to be you only got stuff you wanted. Now you get 20 junk messages for every good one.
What do you think of the service? Would you like to be notified about extreme weather in your area, or would you prefer not receiving the information?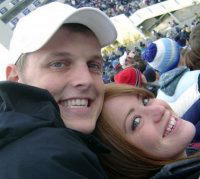 Caleb Hicks
Caleb is a teacher, entrepreneur, and tech enthusiast. He teaches kids (and his Mom) how to use computers for fun and profit. He loves to talk tech, gadgets, and Apple on Twitter (@calebhicks). Check out more posts by Caleb on his Author Page.