Pockets are great, except when they get in the way of the constant fondling of your smartphone. How are you supposed to respond to that iMessage or play a quick round of Draw Something when there's a whole bunch of fabric in the way?
DELTA415 Wearcom jeans to the rescue! For only $160, you can get this stylish pair of jeans that has had the right-pocket replaced by a touch-sensitive see-through phone flap. So now you can look like you have a nervous tick while you use your phone that is in your pocket!
These pants are ridiculous. First of all, $160 for a pair of jeans? Puhleeze. Second, if you have to buy clear iPhone pocket jeans, you've got bigger problems than not being able to use your iPhone while it's in your pocket. And $160 is a bit much for a gag gift, which is about all I can see these pants being useful for.
If you're crazy, you can pick the jeans up at Alphyn Industries, and you can thank Cult of Mac for keeping us apprised of the idiocy.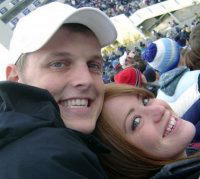 Caleb Hicks
Caleb is a teacher, entrepreneur, and tech enthusiast. He teaches kids (and his Mom) how to use computers for fun and profit. He loves to talk tech, gadgets, and Apple on Twitter (@calebhicks). Check out more posts by Caleb on his Author Page.