I don't know about you, but I have a few favorite jeans and shirts that I wear constantly. My wardrobe is a perfect example of the Pareto principle, I wear 20% of my clothes more than 80% of the time.
I have a closet full of clothes that I may never wear again. And why do I keep them? Because some of them are nice, and I don't want to go through the hassle of boxing them up and giving them away for free, or trying to list used clothes on eBay for pennies.
Granted, most of my clothes are worth mere pennies, but some people have a closet full of upscale clothing that is no longer worn. Threadflip is a new service designed to help those people get top-dollar for their vintage and designer items.
The design is largely photo driven, which makes it great for browsing. Users can upload photos directly from Instagram (which gives pause, since filters may drastically change the look of the clothing). Listing items will be even easier when the Threadflip iOS app is released.
Threadflip goes the extra mile for virtual garage sellers by providing prepaid shipping boxes, while testing out an even more ambitious 'White Glove' service where sellers ship a box of clothes to the company who then lists, sells, and ships your clothes for you.
In a move that will definitely help buyers, the service will learn buyers' style preferences and float matching clothes to the top of search results.
So if you are looking to get rid of some of your clothes, take a look at Threadflip before boxing them up and taking them to Goodwill.
Source: Pando Daily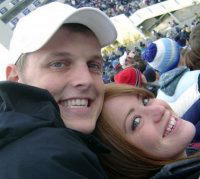 Caleb Hicks
Caleb is a teacher, entrepreneur, and tech enthusiast. He teaches kids (and his Mom) how to use computers for fun and profit. He loves to talk tech, gadgets, and Apple on Twitter (@calebhicks). Check out more posts by Caleb on his Author Page.