When Microsoft announced that it's new Windows 8 operating system with a smooth and sexy Metro interface would include backwards compatibility to a traditional Windows desktop interface, many groaned and pointed to Microsoft's insistence on supporting legacy technology as a vulnerability for the tech giant. But Microsoft may get the last laugh after announcing their vision of the next generation of personal computing, the Microsoft Surface.
A Tale of Two Interfaces
The Windows desktop interface dates back to 1982 with Windows 1.0, it is a paradigm that hundreds of millions of computer users grew up with. Click the Start button, go to Programs, find your favorite app, and launch it. Despite many modern operating systems simplifying and offering a 'home screen' of launch icons, many users no nothing other than the desktop.
Microsoft's Windows 8 Metro user interface aims to bring users up to modern standards for letting the operating system yield to the individual apps, so users can forget about file systems and management and can get straight to actually using the device. But it appeared that Microsoft was unwilling to go whole-hog into the future when it announced that there would be a full-featured Windows Desktop mode to support legacy applications on the next generation of operating systems and touch devices.
Hindsight Provides Insight
Microsoft doesn't see us moving completely towards touch and mobile oriented computing. Microsoft is doubling down on providing a wide array of input and control mechanisms for personal computing in the Microsoft Surface. You want touch? Sure, they've got it. You want to use a stylus? They've got that too. Want to set up like a laptop with a keyboard? You're covered. Want to plug in and use your Surface like a desktop computer? Go ahead, they've got ports.
The Surface looks like Microsoft's attempt at providing a tablet, laptop, and desktop in one machine. Where does this matter most? Enterprise business. Give each of your employees one device that can act as tablet when on the road, laptop when needing a bit more, or full-blown desktop when at the office.
Microsoft isn't trying to guide users into the next stage of personal computing while providing the old tools during the transition, they're providing a buffet-style smorgasbord of options so that no one feels left out. The Microsoft Surface looks like a great piece of technology, but shows a continued unwillingness to move past antiquated computing paradigms. But on the same token, that unwillingness to abandon what's worked for decades may prove to be the catalyst to getting the Microsoft Surface into the hands of millions who want one single device that can give some of the best parts of the mobile and tethered worlds.
Thinking Different
I am not sure if Microsoft is picking the winning strategy here, but I am impressed by their determination to think differently about the future of computing. Instead of copy-catting Apple or Google's successes with iOS or Android, Microsoft is getting ambitious. I'm not sure if that ambition will pay off, but I look forward to seeing what Microsoft envisions for the future.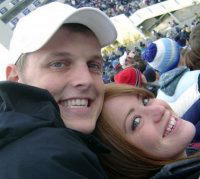 Caleb Hicks
Caleb is a teacher, entrepreneur, and tech enthusiast. He teaches kids (and his Mom) how to use computers for fun and profit. He loves to talk tech, gadgets, and Apple on Twitter (@calebhicks). Check out more posts by Caleb on his Author Page.