On Monday, Square unveiled an update to its payment app for iPad and iPhone: Square Register.  This app benefits both users and merchants: users will be able to avoid lines and pay for their items quicker and merchants will have immediate information about their customers. Sounds like a win-win, to me.
The original Square Register app  allowed merchants to simply and immediately see what any particular customer has purchased in the past, and know what kind of customer they are. Thus, as soon as you walk into a bakery the merchant could know what your usual order is and have it ready for you by the time you get to the counter.
With this upgrade, customers can now download the Square Card Case–with a design reminiscent of a wallet filled with loyalty cards to your favorite stores. (You'll download each loyalty card separately.) Each "card" will contain your purchase information, receipts, menus/services, contact info, a map to the store, and even a list of other nearby merchants who support Square Register. The personalization also allows merchants to send special offers to customers based on their purchases.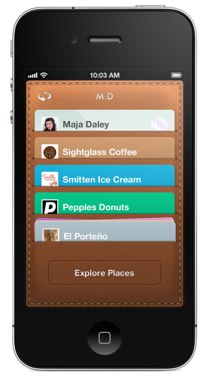 It doesn't stop there, though.
Each loyalty card also allows customers to make purchases straight from the app. So as soon as you're within two blocks of a store, you'll be able to tap your loyalty card's "use tab" button and any purchase you make will be charged on your Square account.
So far, though, it sounds as if participating merchants are only in a few big cities: San Francisco, Washington D.C., St. Louis, LA, and New York. See a list of participating businesses on Square's site. The app will be released on Android soon.
This makes another tally of my list of incentives to get a smartphone. Is this the future of gadget technology? It certainly appears that especially smartphone developers are working to get as much of our daily processes integrated into phones–from directions to payments, now.
Are you using Square Register yet? Want to? Sound off in the comments.
Source: TechCrunch