Are you a budding Instagram pro? Instaprints is a new service to help you make money with your retrotastic photos by selling real-life prints.
Sean Broihier, the entrepreneur behind Instaprints, came up with the idea while running his other company – Fine Art America, which helps artists and photographers sell their work. In an interview with Mashable, Sean said:
Creating Instaprints was a natural extension of what we've been doing with Fine Art America, on Fine Art America, we make it easy for professional artists and photographers to sell their images as beautiful prints which buyers can hang on their walls. With Instaprints, we are offering the exact same functionality to Instagram's 40+ million users. In less than a minute, any Instagram user can join Instaprints.com, import his/her portfolio of images and immediately begin selling them.
Instaprints has a base price for every product. For example, an 8×8 canvas print starts at $25, but users can set higher prices and pocket the difference.
There are already over 2.5 million photos on the service, many of which are fantastic and would make a great decoration for an apartment or home. So the service may also help you decorate your apartment with some of Instagram's finest.
Whether you want to make a couple bucks with your own photography, or buy some great Instagram shots, take a look at Instaprint.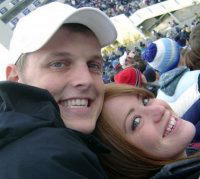 Caleb Hicks
Caleb is a teacher, entrepreneur, and tech enthusiast. He teaches kids (and his Mom) how to use computers for fun and profit. He loves to talk tech, gadgets, and Apple on Twitter (@calebhicks). Check out more posts by Caleb on his Author Page.