Apple's retail expertise is second to none, and a recent story by Forbes provides some new insight into just how much Apple sweats the small stuff in every store, down to the angle that each MacBook display is placed at every morning before the store opens.
You might think that Apple positions all its notebook computers for aesthetic reasons. That's partly true. The tables are uncluttered and the products are clean. But the main reason notebook computers screens are slightly angled is to encourage customers to adjust the screen to their ideal viewing angle—in other words, to touch the computer!
Apple's retail employees use an iPhone app to tilt the MacBook displays at precisely 70 degrees, just far enough back to catch the attention of a passerby, and to require the user to move the screen to their ideal viewing angle.
Compare Apple's attention to detail to the computer display aisle at Best Buy or Wal-Mart, and it's no wonder that Apple's retail stores bring in the highest revenue per square foot out of any retail location in the world.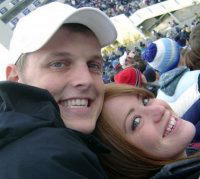 Caleb Hicks
Caleb is a teacher, entrepreneur, and tech enthusiast. He teaches kids (and his Mom) how to use computers for fun and profit. He loves to talk tech, gadgets, and Apple on Twitter (@calebhicks). Check out more posts by Caleb on his Author Page.