The new iPad 3 is being released today with some cool iPad 3 accessories a new screen, new camera and new network capabilities. While many don't understand why the first two really matter, having the ability to have LTE stands out as a huge upgrade. In the US it will be released on Verizon and AT&T, but which one will have the best data plan? Let's take a look.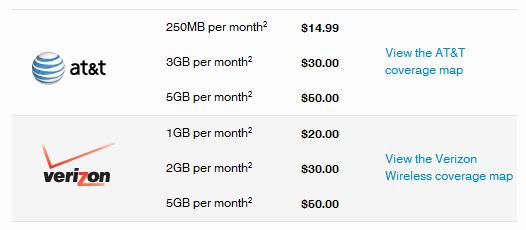 At first glance they seem to be pretty competitive. If you choose Verizon's basic package you get 750MB more per month for only 5 dollars. If you choose AT&T's 3GB per month you get 1 more GB a month compared to Verizon customers. Both of them ending at 5GB for $50 per month.
The great part about these plans is that even with the upgrade from 3G to the new LTE network the prices did not change. Combined with the great prices and no contract this will bring many to buy the LTE version of the new iPad.
One new ability that the iPad now has is the ability to be its own hotspot for other Wi-Fi enabled devices to connect to it. Currently Verizon is offering this functionality without any additional cost to your data plan and this will not be available with AT&T yet. In the future it may be able to be added with an additional charge to your plan. Using the data from other devices will of course count toward your overall data usage.
There you have it. Verizon is the winner in the overall plan features. Now you just need to figure out which has the better network coverage.
Which version of the iPad are you picking up today?
Image Source: Apple