What Is Blue Light?
Blue light is a visible color in the light spectrum, and it's a part of our natural world. However, there is growing concern about high energy visible (HEV) blue light from digital devices. That concern stemps primarily from our close proximity to screens, the length of time we use our devices, and the cumulative impact of using electronic devices every day.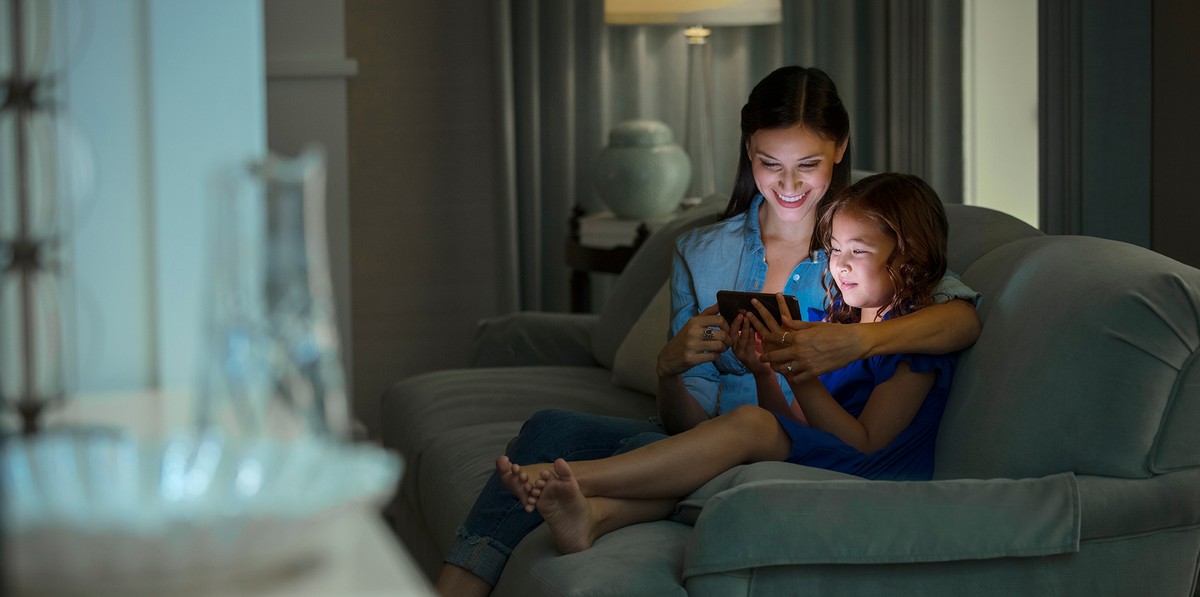 Mom and child watching a video on a device.
Blue Light and Our Mobile Devices
Our mobile device screens let us enjoy pictures, animations, games, shows, and more. But most of the LED light used in digital devices has wavelengths of 435-440nm, a range connected with concerns in the medical community about eye health and the potential risks of over exposure.
What Is Digital Eye Strain?
According to the Vision Council, many people experience discomfort and vision problems when using digital devices for extended periods. As many as 65% of Americans report experiencing symptoms of digital eye strain* which may include: eye strain, headaches, blurred vision, or dry, irritated eyes.
At ZAGG, "Protect Better" means we go beyond just scratch and shatter protection for your screen.
We're looking out for you as well as your device. That's why we added Eyesafe® advanced blue light technology
to our VisionGuard, XTR, and XTR2 screen protection.
ZAGG InvisibleShield with Eyesafe®
InvisibleShield leads the screen protection industry in blue light screen protection with Eyesafe® advanced blue light technology that filters 40% of blue light at 435-440 nm.
LEARN MORE ABOUT EYESAFE
Blue Light Filtration with No Yellow Tint
Other solutions typically adjust the blue light by shifting the color to warmer hues. Eyesafe® technology reduces blue light while maintaining the vibrant, true colors of your screen.
SHOP SCREEN PROTECTION
At ZAGG, we care about more than just your digital device. We want you to have the best digital experience.
Top-of-the-line blue light filtration is just one way we protect better.
 
Certified by TÜV Rheinland
Together, ZAGG InvisibleShield and Eyesafe® set the bar with industry-leading standards for blue light filtration. Products are certified by TÜV Rheinland, a global leader in independent product testing to meet industry-leading requirements for blue light emissions and color integrity.
"Our eyes are just not equipped to have that high-intensity blue light shining directly in them all day."
–Dr. Sheri Rowen
Founder of Rowen Vision & Cosmetic Center